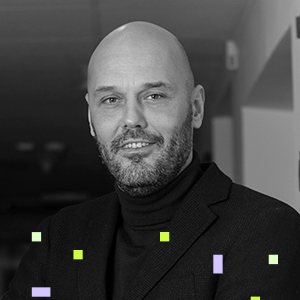 Hrvoje Ćosić was born in May 1977, in Zagreb. After graduating from high school at the Mathematics & Informatics Education Center in 1995, he enrolled in the Faculty of Electrical Engineering and Computing at the University of Zagreb, where he graduated in 2000. In addition to completing his graduate studies at the Faculty of Electronics and Computing, Hrvoje enrols in MBA specialist studies, and thus obtains an MBA degree in finance.
He started his professional career in the early 2000s as a manager at Hypo Alpe Adria Bank, where he worked in treasury finance, risk and liquidity management, the money market, and currency trading. Shortly afterwards, he decided to enter entrepreneurship and founded Fornax d.o.o., his first computer programming company, which he ran for more than 15 years.
In 2015, together with his partners, he founded Aircash, the first Croatian fintech to launch an e-wallet, within the Aircash mobile application. Aircash is a highly regulated electronic money institution with an approval issued by the Croatian National Bank and valid in all EU member states. In addition, Aircash is the only non-bank institution in Croatia that can issue Mastercard cards. Hrvoje still works as the CEO of Aircash, which today has more than 350.000 users and is rapidly expanding its presence throughout the whole EU.