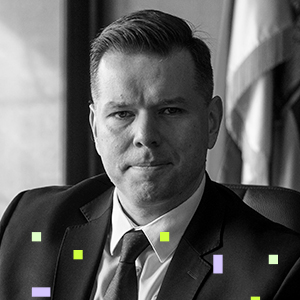 Marko Janković has been the Chairman of the Republic of Serbia Securities Commission for the last three years, since 2019, following his two-year tenure as a Commissioner of the Securities Commission. He was reelected by the RS National Assembly for his second term of office for the period of five years (until November 2026). Mr Janković holds these important functions in the Serbian capital market regulatory authority which entail capital market development activities, its promotion, safeguarding orderly functioning of the capital market, enhancing investor protection and ensuring integrity, efficiency and transparency of the market.
What is more, Mr Janković has been serving as the Board Member in the Audit Public Oversight Board for the past five years, contributing to the role of the Board to control the work of auditors, audit companies and of the Chamber of Certified Auditors, with the objective of protection of public interest, higher transparency and enhanced financial discipline.
In addition to these public functions, in the course of his twenty-years long professional career, Mr Janković was also a Chief Executive Officer of Centroprom a.d, Head of Risk and Compliance Department of Centar Faktor d.o.o, Head Broker of Meridian Invest a.d. and a Broker in Eurohipo a.d. In 2002, Mr Janković passed the exams and earned a broker's license issued by the Securities Commission.
Mr Janković strongest assets in addition to Capital Markets, include Business Planning, Corporate Finance, Banking, Foreign Exchange (FX) Options, Asset Management, and Investment Strategies. Mr Janković holds a Bachelor's degree in Economics from the University of Belgrade (Finance, Banking and Insurance) and speaks fluent English, Russian and German.